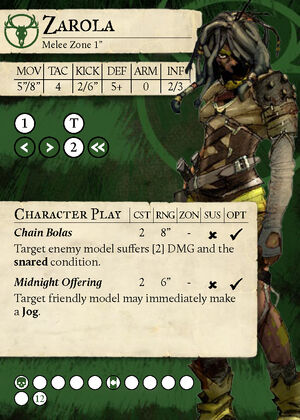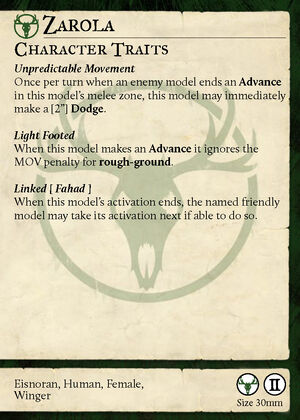 Zarola...
---
CHARACTER PLAYS Edit
Chain Bolas (2) || 8" Range || OPT
Target enemy model suffers [2] DMG and the snared condition. Edit
Midnight Offering (2) || 6" Range || AOE 6" || OPT
Target friendly model may immediately make a Jog.
Edit
CHARACTER TRAITS Edit
Unpredictable Movement
Once per turn when an enemy model ends an Advance in this model's melee zone, this model may immediately make a [2"] Dodge. Edit
Light Footed
When this model makes an Advance it ignores the MOV penalty for rough-ground. Edit
Linked [Fahad]
When this model's activation ends, the named friendly model may take its activation next if able to do so.
Edit
Community content is available under
CC-BY-SA
unless otherwise noted.