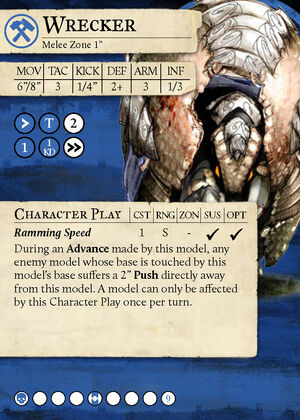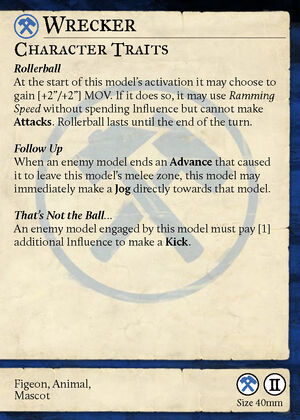 Wrecker...
---
CHARACTER PLAYS Edit
Ramming Speed (1) || Self Range || Sustaining || OPT
During an Advance made by this model, any enemy model whose base is touched by this model's base suffers a 2" Push directly away from this model. A model can only be affected by this Character Play once per turn.
Edit
CHARACTER TRAITS Edit
Rollerball
At the start of this model's activation it may choose to gain [+2"/+2"] MOV. If it does, it may use Ramming Speed without spending Influence but cannot make Attacks. Rollerball lasts until the end of the turn. Edit
Follow Up
When an enemy model ends an Advance that caused it to leave this model's melee zone, this model may immediately make a Jog directly towards that model.
Edit
That's Not the Ball...
An enemy model engaged by this model must pay [1] additional Influence to make a Kick.
Edit