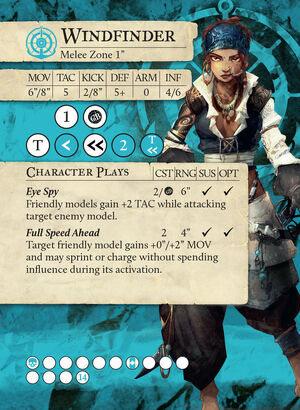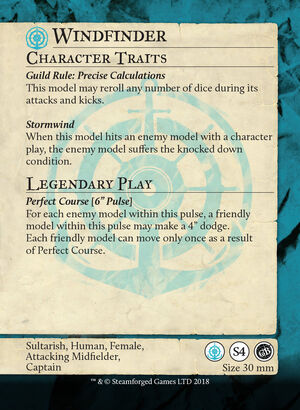 Released : The Navigator's Guild: Tales of the New World ( 21 Sept 2018)
---
CHARACTER PLAYS Edit
Eye Spy (2 / 1 GB) || 6" || Sustaining || OPT
Friendly models gain +2 TAC while attacking target enemy model.
Edit
Full Speed Ahead (2) || 4" || Sustaining || OPT
Target friendly model gains +0"/+2" MOV and may sprint or charge without spending influence during its activation.
Edit
CHARACTER TRAITS Edit
Guild Rule: Precise Calculations
This model may reroll any number of dice during its attacks and kicks.
Edit
Stormwind
When this model hits an enemy model with a character play, the enemy model suffers the knocked down condition.
Edit
LEGENDARY PLAY Edit
Perfect Course (6" Pulse)
For each enemy model within this pulse, a friendly model within this pulse may make a 4" dodge. Each friendly model can move only once as a result of Perfect Course.
Edit
ARTICLES Edit
Community content is available under
CC-BY-SA
unless otherwise noted.