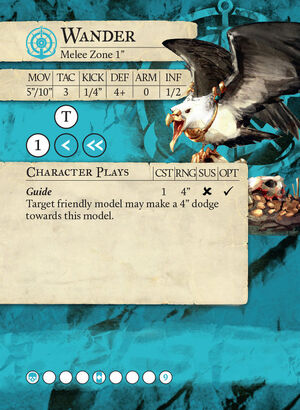 Albatross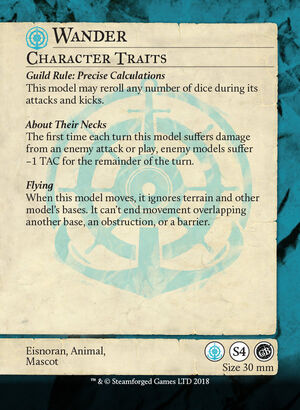 Released : The Navigator's Guild: Tales of the New World ( 21 Sept 2018)
---
CHARACTER PLAYS Edit
Guide (1) || 4" Range || OPT
Target friendly model may make a 4" dodge towards this model.
Edit
CHARACTER TRAITS Edit
Guild Rule: Precise Calculations
This model may reroll any number of dice during its attacks and kicks.
Edit
About Their Necks
The first time each turn this model suffers damage from an enemy attack or play, enemy models suffer -1 TAC for the remainder of the turn.
Edit
Flying
When this model moves, it ignores terrain and other model's bases. It can't end movement overlapping another base, an obstruction, or a barrier.
Edit
ARTICLES Edit
Community content is available under
CC-BY-SA
unless otherwise noted.