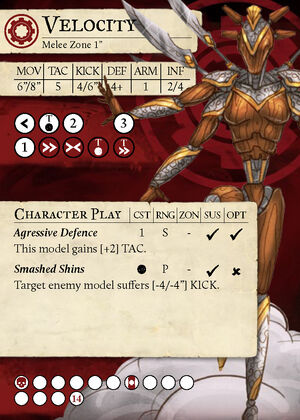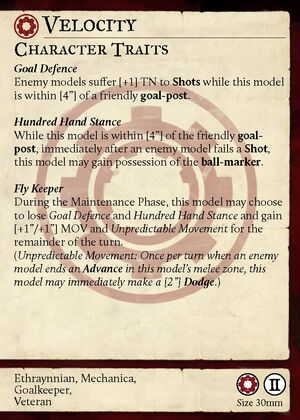 Destroyed and rebuilt to be more deadly than ever, Velocity's new form perfectly encapsulates the Engineer's adaptable playstyle!
---
CHARACTER PLAYS Edit
Aggressive Defence (1) || Self Range || Sustaining || OPT
This model gains [+2] TAC.
Edit
Smashed Shins (1 GB) || P Range || Sustaining
Target enemy model suffers [-4/-4"] KICK.
Edit
CHARACTER TRAITS Edit
Goal Defence
Enemy models suffer [+1] TN to Shots while this model is within [4"] of a friendly goal-post.
Edit
Hundred Hand Stance
While this model is within [4"] of the friendly goal-post, immediately after an enemy model fails a Shot, this model may gain possession of the ball-marker.
Edit
Fly Keeper
During the Maintenance Phase, this model may choose to lose Goal Defence and Hundred Hand Stance and gain [+1"/+1"] MOV and Unpredictable Movement for the remainder of the turn. Edit
(Unpredictable Movement: Once per turn when an enemy model ends an Advance in this model's melee zone, this model may immediately make a [2"] Dodge.)
Community content is available under
CC-BY-SA
unless otherwise noted.