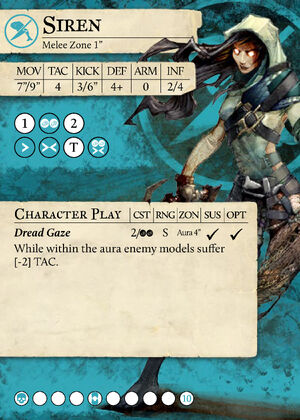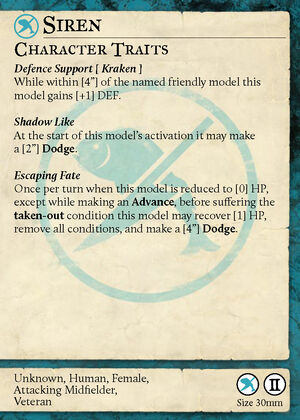 Siren was always an enigma, but now she's infused with a dark, powerful aura, making her more mysterious and powerful than ever.
---
CHARACTER PLAYS Edit
Dread Gaze (2 / 2 GB) || S Range || Aura 4" || Sustaining
While within the aura enemy models suffer [-2] TAC.
Edit
CHARACTER TRAITS Edit
Defence Support [Kraken]
While within [4"] of the named friendly model this model gains [+1] DEF.
Edit
Shadow Like
At the start of this model's activation it may make a [2"] Dodge. Edit
Escaping Fate
Once per turn when this model is reduced to [0] HP before suffering the taken-out condition, this model may recover [1] HP, remove all conditions, and make a [4"] Dodge. Edit
Community content is available under
CC-BY-SA
unless otherwise noted.