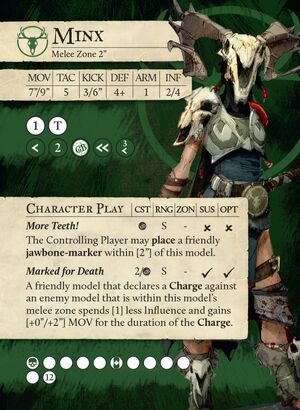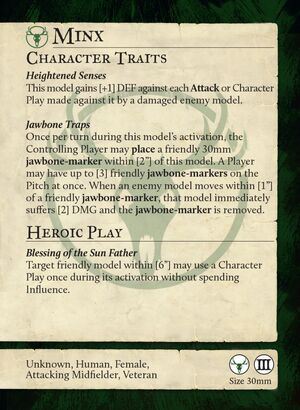 Veteran Minx...
---
CHARACTER PLAYS Edit
More Teeth! (1 GB) || Self Range
The Controlling Player may Place a friendly jawbone-marker within [2"] of this model. Edit
Marked for Death (2 / 1GB) || Self Range || Sustaining || OPT
A friendly model that declares a Charge against an enemy model that is within this model's melee zone spends [1] less Influence and gains [+0"/+2"] MOV for the duration of the Charge. Edit
CHARACTER TRAITS Edit
Heightened Senses
This model gains [+1] DEF against each Attack or Character Play made against it by a damaged enemy model. Edit
Jawbone Traps
Once per turn during this model's activation, the Controlling Player may place a friendly 30mm jawbone-marker within [2"] of this model. A Player may have up to [3] friendly jawbone-markers on the Pitch at Once. When an enemy model moves within [1"] of a friendly jawbone-marker, that model immediately suffers [2] DMG and the jawbone-marker is removed. Edit
HEROIC PLAY Edit
Blessing of the Sun Father
Target friendly model within [6"] may use a Character Play once during its activation without spending Influence.
Edit
ARTICLES Edit
Here Comes the Sun do-do-do-do - Veteran Minx
Community content is available under
CC-BY-SA
unless otherwise noted.