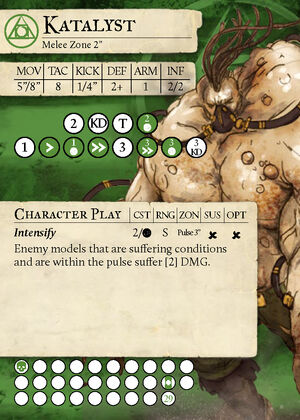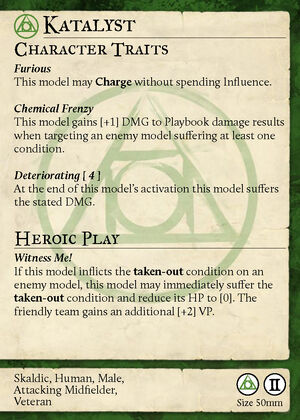 The man who was Katalyst has been lost to his elixir, and in his place stands a monstrous mass of swollen musculature, a hideous juggernaut of horror. Incapable of communication, Veteran Katalyst is more unnatural beast than human player, making him the perfect weapon to unleash on even the most steadfast opponents.
---
CHARACTER PLAYS Edit
Intensify (2 / 1 GB) || Self Range || Pulse 3"
Enemy models that are suffering conditions and are within the pulse suffer [2] DMG. Edit
CHARACTER TRAITS Edit
Furious
This model may Charge without spending Influence.
Edit
Chemical Frenzy
This model gains [+1] DMG to Playbook damage results when targeting an enemy model suffering at least one condition. Edit
Deteriorating [4]
At the end of this model's activation this model suffers the stated DMG.
Edit
HEROIC PLAY Edit
Witness Me!
If this model inflicts the taken-out condition on an enemy model, this model may immediately suffer the taken-out condition and reduce its HP to [0]. The friendly team gains an additional [+2] VP. Edit