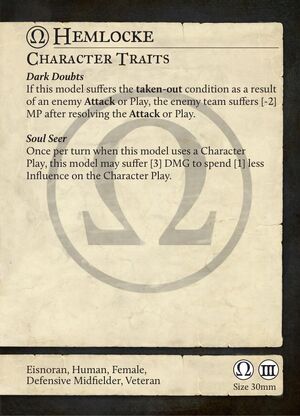 Veteran Hemlocke...
---
CHARACTER PLAYS Edit
Blind (1) || 8" Range || Sustaining || OPT
Target enemy model suffers [-2] TAC, [-2/-2"] KICK and [-2"/-2"] MOV.
Edit
Midnight Offering (2) || 6" Range || OPT
Target Friendly model may immediately make a Jog. Edit
CHARACTER TRAITS Edit
Dark Doubts
If this model suffers the taken-out condition as a result of an enemy Attack or Play, the enemy team suffers [-2] MP after resolving the Attack or Play. Edit
Soul Seer
Once per turn when this model users a Character Play, this model may suffer [3] DMG to spend [1] less Influence on the Character Play.
Edit
Community content is available under
CC-BY-SA
unless otherwise noted.