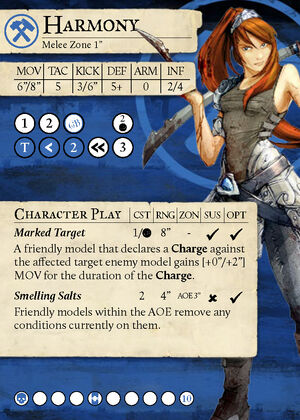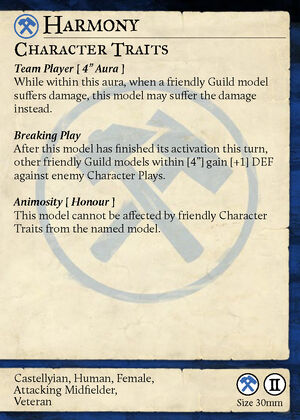 Hoping to help the Masons maintain their winning streak, Harmony professes herself a changed woman. No longer basking in the glow of self-importance and arrogance, she brings a renewed dedication to both her team and captain. Are these claims anything more than a publicity stunt or is she being genuine? Only time will tell.
---
CHARACTER PLAYS Edit
Marked Target (1 / 1 GB) || 8" Range || Sustaining || OPT
A friendly model that declares a Charge against the affected target enemy model gains [+0"/+2"] MOV for the duration of the Charge.
Edit
Smelling Salts (2) || 4" Range || AOE 3" || OPT
Friendly models within the AOE removes any conditions currently on them.
Edit
CHARACTER TRAITS Edit
Team Player [4" Aura]
While within this aura, when a friendly Guild model suffers damage, this model may suffer the damage instead.
Edit
Breaking Play
After this model has finished its activation this turn, other friendly guild models within [4"] gain [+1] DEF against enemy Character Plays.
Edit
Animosity [Honour]
This model cannot be affected by friendly Character Traits from the named model.
Edit