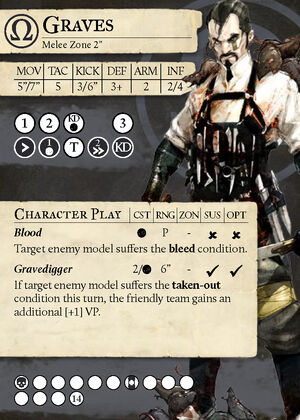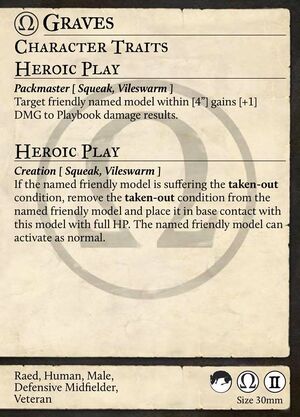 Veteran Graves...
---
CHARACTER PLAYS Edit
Blood (1 GB) || P Range
Target Enemy model suffers the bleed condition. Edit
Gravedigger (2 / 1 GB) || 6" Range || Sustaining || OPT
If target enemy model suffers the taken-out condition this turn, the friendly team gains an additional [+1] VP. Edit
HEROIC PLAY Edit
Packmaster [Vileswarm, Squeak]
Target friendly named model within [4"] gains [+1] DMG to Playbook damage results.
Edit
If the named friendly model is suffering the taken-out condition, remove the taken-out condition from the name friendly model and place it in base contact with this model with full HP. The named friendly model can activate as normal. Edit
ARTICLES Edit
Community content is available under
CC-BY-SA
unless otherwise noted.