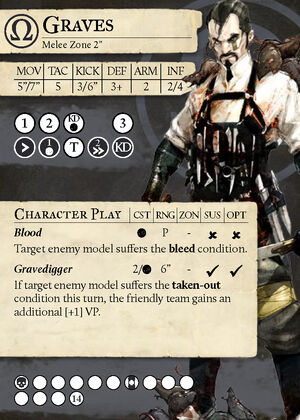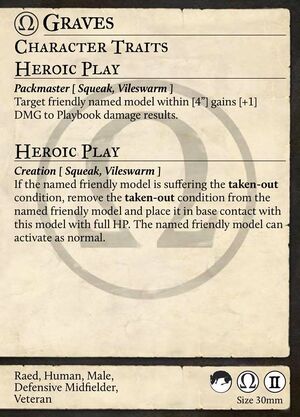 Veteran Graves...
---
CHARACTER PLAYS Edit
Blood (1 GB) || P Range
Target Enemy model suffers the bleed condition. Edit
Gravedigger (2 / 1 GB) || 6" Range || Sustaining || OPT
If target enemy model suffers the taken-out condition this turn, the friendly team gains an additional [+1] VP. Edit
HEROIC PLAY Edit
Packmaster [Vileswarm, Squeak]
Target friendly named model within [4"] gains [+1] DMG to Playbook damage results.
Edit
If the named friendly model is suffering the taken-out condition, remove the taken-out condition from the name friendly model and place it in base contact with this model with full HP. The named friendly model can activate as normal. Edit
ARTICLES Edit