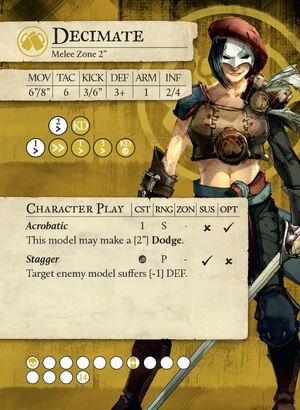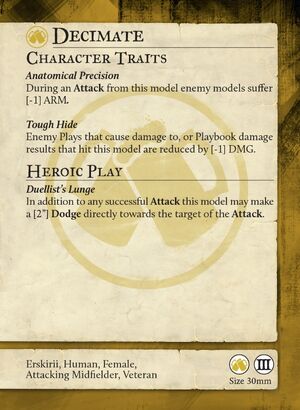 Veteran Decimate ...
---
CHARACTER PLAYS Edit
Acrobatic (1) || Self Range || OPT
This model may make a [2"] Dodge. Edit
Stagger (1 GB) || P Range || Sustaining
Target enemy model suffers [-1] DEF.
Edit
CHARACTER TRAITS Edit
Anatomical Precision
During an Attack from this model enemy models suffer [-1] ARM. Edit
Tough Hide
Enemy Plays that cause damage to, or Playbook damage results that hit this model are reduced by [-1] DMG.
Edit
HEROIC PLAY Edit
Duelist's Lunge
In addition to any successful Attack this model may make a [2"] Dodge directly towards the target of the Attack.
ARTICLES Edit
Brewer's Guild Rejoice! Decimate is Home!!
Community content is available under
CC-BY-SA
unless otherwise noted.