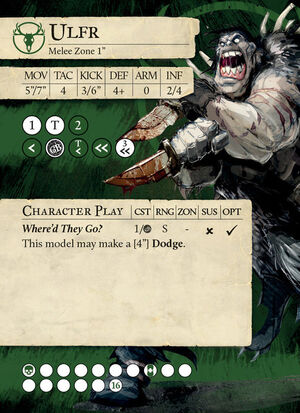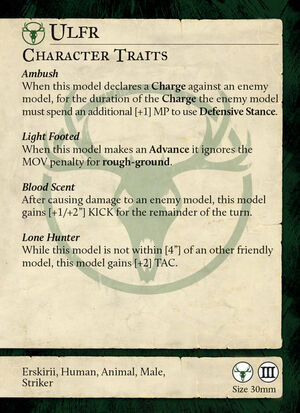 Ulfr...
---
CHARACTER PLAYS Edit
Where'd They Go? (1 / 1GB) || Self Range || OPT
This model may make a [4"] Dodge. Edit
CHARACTER TRAITS Edit
Ambush
When this model declares a Charge against an enemy model, for the duration of the Charge the enemy model must spend an additional [+1] MP to use Defensive Stance. Edit
Light Footed
When this model makes an Advance it ignores the MOV penalty for rough-ground. Edit
Blood Scent
After causing damage to an enemy model, this model gains [+1 / +2"] KICK for the remainder of the turn.
Edit
Lone Hunter
While this model is not within [4"] of an other friendly model, this model gains [+2] TAC.
Edit