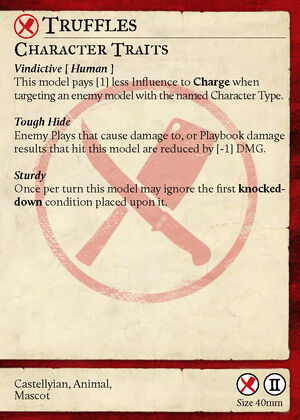 Truffles...
---
CHARACTER PLAYS Edit
Hog Wild (1) || S Range || Sustaining || OPT
The first time this model suffers damage this turn from an enemy Attack or Character Play, it may immediately make a Jog.
Edit
CHARACTER TRAITS Edit
Vindictive [Human]
This model pays [1] less Influence to Charge when targeting an enemy model with the named Character Type.
Edit
Tough Hide
Enemy Plays that cause damage to, or Playbook damage results that hit this model are reduced by [-1] DMG.
Edit
Sturdy
Once per turn this model may ignore the first knocked-down condition placed upon it. Edit