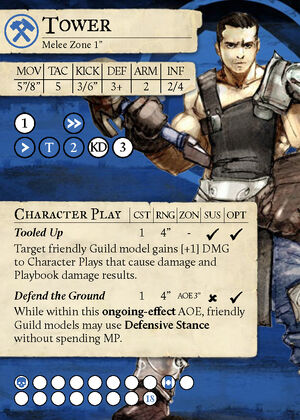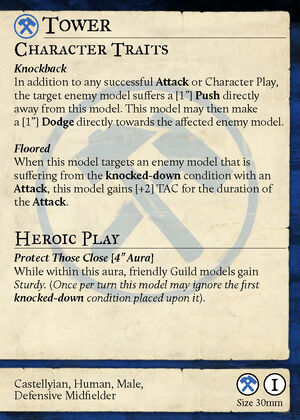 Tower is a man of his craft, and dedicated to the furthering the masonic art. He quickly showed an equal talent for the game, and was promptly hired as an apprentice player. Despite only playing one season, he has already earned the respect of his colleagues, proving himself a capable addition to the squad.
---
CHARACTER PLAYS Edit
Tooled Up (1) || 4" Range || Sustaining || Sustaining || OPT
Target friendly Guild model gains [+1] DMG to Character Plays that cause damage and Playbook damage results.
Edit
Defend the Ground (1) || 4" Range || OPT
While within this ongoing-effect AOE, friendly Guild models may use Defensive Stance without spending MP.
Edit
CHARACTER TRAITS Edit
Knockback
In addition to any successful Attack or Character Play, the target enemy model suffers a [1"] Push directly away from this model. This model may then make a [1"] Dodge directly towards the affected enemy model.
Edit
Floored
When this model targets an enemy model that is suffering from the knocked-down condition with an Attack, this model gains [+2] TAC for the duration of the Attack. Edit
HEROIC PLAY Edit
Protect Those Close [4" Aura"]
While within this Aura, friendly Guild models gain Sturdy: (Once per turn, this model may ignore the first knocked-down condition placed upon it). Edit
Community content is available under
CC-BY-SA
unless otherwise noted.