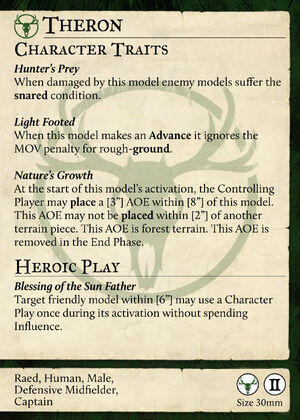 Theron...
---
CHARACTER PLAYS Edit
Pinned (2) || 8" Range || Sustaining || OPT
Target enemy model suffers [2] DMG. While this model is on the Pitch, the target enemy model can only move directly towards this model during its Advance. Edit
Snipe (2) || 8" Range || Sustaining
Target enemy model suffers [-2/-2"] KICK and [2] DMG.
Edit
Sun Strike (1) || 6" Range || Sustaining
Target friendly Guild model may generate [1] MP from each successful Character Play that targets an enemy model.
Edit
CHARACTER TRAITS Edit
Hunter's Prey
When damaged by this model enemy models suffer the snared condition. Edit
Light Footed
When this model makes an Advance it ignores the MOV penalty for rough-ground. Edit
Nature's Growth
At the start of this model's activation, the Controlling Player may place a [3"] AOE within [8"] of this model. This AOE may not be placed within [2"] of another terrain piece. This AOE is forest terrain. This AOE is removed in the End Phase. Edit
HEROIC PLAY Edit
Blessing of the Sun Father
Target friendly model within [6"] may use a Character Play once during its activation without spending Influence.
Edit
ARTICLES Edit
Theron Origins - 4 - Under the Light of the Moon
Theron Origins - 5 - The Last Post
Community content is available under
CC-BY-SA
unless otherwise noted.