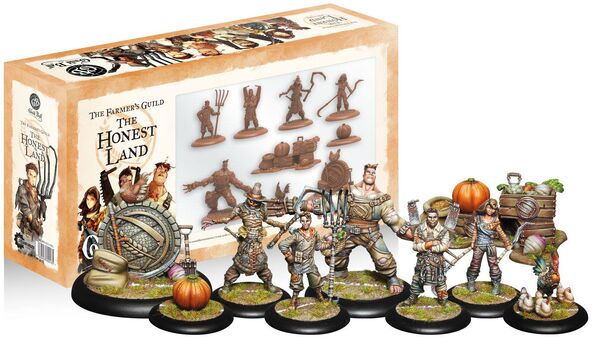 The Farmer's Guild: The Honest Land
Edit
Contents: 6 players (Grange, Peck, Windle, Bushel, Harrow, Jackstraw), Ball (pumpkin), Goal Token (a millstone), 3D Terrain Piece (pile of baskets), tokens and health dials for all players
Notes: Pre-assembled PVC
The Farmer's Guild has an entirely new play style that coaches will want to experience featuring the unique reaping and sowing mechanics. 

The Farmers 'plant' harvest Markers throughout the turn to 'reap' later on for huge in-game benefits

In a world of bad guys, Farmers are the good guys that win through hard work and elbow grease.With a complete roster ready to hit the pitch, this team is the perfect way for a coach to to take the pitch as quickly as possible.
Farmer's Guild Dice
Edit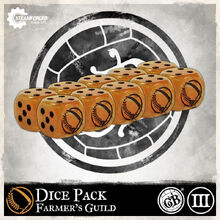 "Roll out the hay bales! We've got some workhorses to feed."
— Bushel, Farmer's Guild
If you want to keep your focus on the pitch then you're going to need a decent set of dice to roll. And the Farmer's Guild have provided dice that are the cream of the crop. Crucial for those decisive moments, the sight of a faction emblem heralds another step on the road to victory. With 10 lovely, orange marbled dice you'll never need to stop the action. These dice are truly befitting of hardworking harvester.
Contents: 10x Farmer's Guild Dice</p>