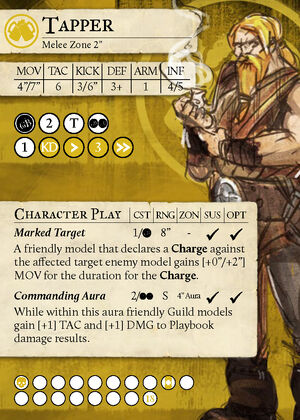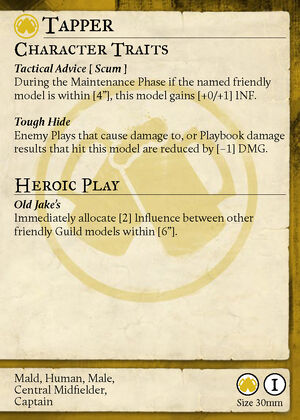 When a guild hires a team captain, they look for qualities such as strategic thinking, leadership skills and motivational ability. The Brewer's took a different approach and went for a drunk who loves nothing more than starting a bar brawl. The other players respect this, and will loyally follow Tapper's barked commands, even if they seem a bit muddled sometimes.
---
CHARACTER PLAYS Edit
Marked Target (1 / 1 GB) || 8" Range || Sustaining || OPT
A friendly model that declares a Charge against the affected target enemy model gains [+0"/+2"] MOV for the duration of the Charge.
Edit
Commanding Aura (2 / 2 GB) || S Range || 4"Aura || Sustaining || OPT
While within this aura friendly Guild models gain [+1] TAC and [+1] DMG to Playbook damage results.
Edit
CHARACTER TRAITS Edit
Tactical Advice [Scum]
During the Maintenance Phase if the named friendly model is within [4"], this model gains [+0/+1] INF.
Edit
Tough Hide
Enemy Plays that cause damage to, or Playbook damage results that hit this model are reduced by [-1] DMG.
Edit
HEROIC PLAY Edit
Old Jake's
Immediately allocate [2] Influence between other friendly Guild models within [6"].
Edit