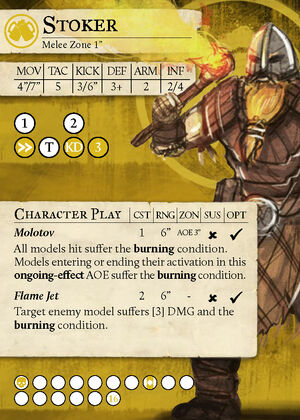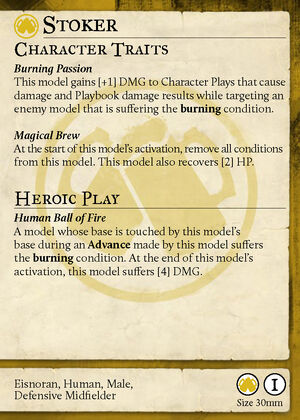 Stoker is the stocky Master of the Stills employed by the Brewer's Guild. He has a reputation for being an unhinged pyromaniac. If you see him in action, you know this to be an understatement when the opposition finish the game as little more than scorched earth.
---
CHARACTER PLAYS Edit
Molotov (1) || 6" Range || AOE 3" || OPT
All models hit suffer the burning condition. Models entering or ending their activation in this ongoing-effect AOE suffer the burning condition Edit
Flame Jet (2) || 6" Range || OPT
Target enemy model suffers [3] DMG and the burning condition. Edit
CHARACTER TRAITS Edit
Burning Passion
This model gains [+1] DMG to Character Plays that cause damage and Playbook damage results while targeting an enemy model that is suffering the burning condition. Edit
Magical Brew
Once per turn during this model's activation it can remove any conditions currently on it. This model also recovers [2] HP.
Edit
HEROIC PLAY Edit
Human Ball of Fire
A model whose base is touched during this model's Advance suffers the burning condition. At the end of this model's activation it suffers [4] DMG. Edit