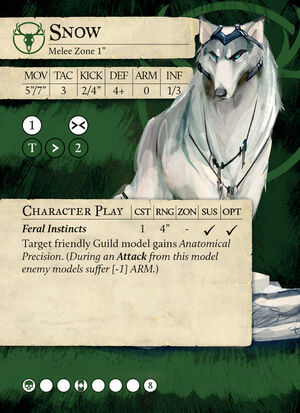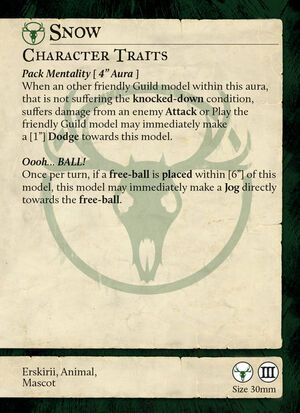 Snow...
---
CHARACTER PLAYS Edit
Feral Instincts (1) || 4" Range || Sustaining || OPT
Target friendly Guild model gains Anatomical Precision. (During an Attack from this model enemy models suffer [-1] ARM.) Edit
CHARACTER TRAITS Edit
Pack Mentality [4" Aura]
When an other friendly Guild model within this aura, that is not suffering the knocked-down condition, suffers damage from an enemy Attack or Play the friendly Guild model may immediately make a [1"] Dodge towards this model. Edit
Oooh ... BALL!
Once per turn, if a free-ball is placed within [6"] of this model, this model may immediately make a Jog directly towards the free-ball. Edit
Community content is available under
CC-BY-SA
unless otherwise noted.