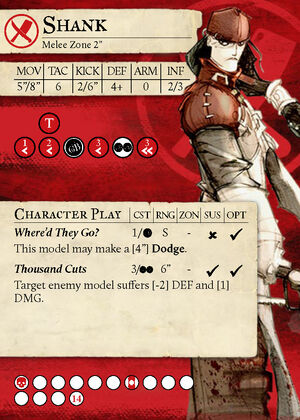 Shank is a man with a dark past. You could call him a common thug, a thief, a murder and more and still yet fall short. To Shank, a Guild Ball team is essentially a gang that pays better, where he practices his many violent talents on the opposition.
---
CHARACTER PLAYS Edit
Where'd They Go? (1 /1 GB) || S Range || OPT
This model may make a [4"] Dodge.
Edit
Thousand Cuts (3 / 2 GB) || 6" Range || Sustaining || OPT
Target enemy model suffers [-2] DEF and [1] DMG.
Edit
CHARACTER TRAITS Edit
Damaged Target
When this model declares a Charge against a damaged enemy model it gains [+0"/2"] MOV for the duration of the Charge.
Edit