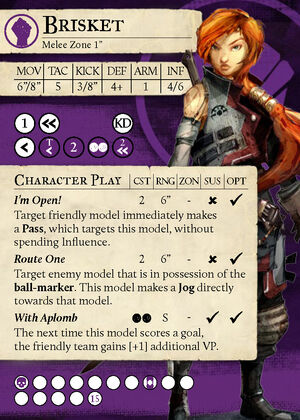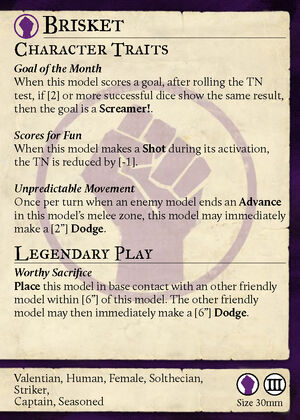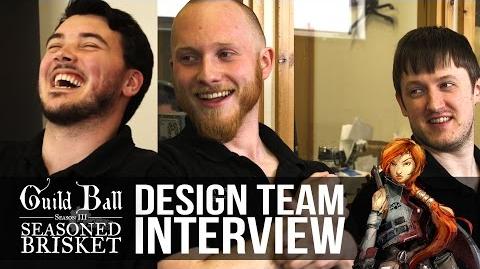 A standout player among the cutthroats of the Union, Brisket is a captain to be reckoned with. Despite being at odds with her team's ruthless villainy, she can always rally her team, pushing them to achieve epic feats of teamwork and dominate the scoreboard. Easily the most gifted striker to play for the Union, her motives remain a compelling mystery.
---
CHARACTER PLAYS Edit
I'm Open! (2) || 6" Range || OPT
Target friendly model immediately makes a Pass, which targets this model, without spending Influence. Edit
Route One (2) || 6" Range || OPT
Target enemy model that is in possession of the ball-marker. This model makes a Jog directly towards this model. Edit
With Aplomb (2 GB) || Sustaining || OPT
The next time this model scores a goal, the friendly team gains [+1] additional VP.
Edit
CHARACTER TRAITS Edit
Goal of the Month
When this model scores a goal, after rolling the TN test, if [2] or more successful dice show the same result, then the goal is a Screamer!. Edit
Scores for Fun
When this model makes a Shot during its activation, the TN is reduced by [-1]. Edit
Unpredictable Movement
Once per turn, when an enemy model ends an Advance in this model's melee zone, this model may immediately make a [2"] Dodge. Edit
LEGENDARY PLAY Edit
Worthy Sacrifice
Place this model in base contact with an other friendly model within [6"] of this model. The other friendly model may then immediately immediately make a [6"] Dodge. Edit
Community content is available under
CC-BY-SA
unless otherwise noted.