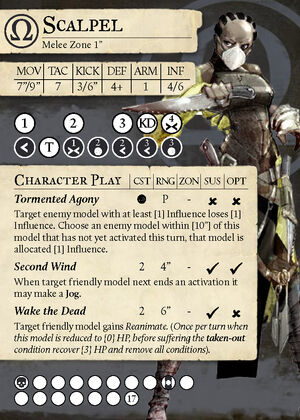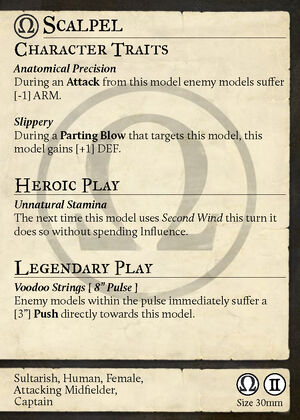 Scalpel...
---
CHARACTER PLAYS Edit
Tormented Agony (1 GB) || P Range
Target Enemy model with at least [1] Influence loses [1] Influence. Choose an enemy model within [10"] of this model that has not yet activated this turn, that model is allocated [1] Influence.
Edit
Second Wind (2) || 4" Range || Sustaining || OPT
When target friendly model next ends an activation it may make a Jog. Edit
Wake the Dead (2) || 6" Range || Sustaining
Target friendly model gains Reanimate (Once per turn when this model is reduced to [0 HP, before suffering the taken-out condition recovers [3] HP and remove all conditions). Edit
CHARACTER TRAITS Edit
Anatomical Precision
During an Attack from this model enemy models suffer [1] ARM. Edit
Slippery
During a Parting Blow that targets this model, this model gains [+1] DEF. Edit
HEROIC PLAY Edit
Unnatural Stamina
The next time this model uses Second Wind this turn it does so without spending Influence.
Edit
LEGENDARY PLAY Edit
Voodoo Strings [8" Pulse]
Enemy models within the pulse immediately suffer a [3"] Push directly towards this model. Edit
ARTICLES Edit