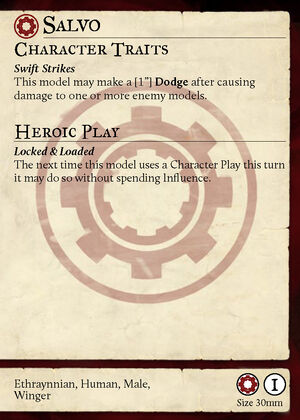 Salvo was promoted to first apprentice under Ballista following the tragic death of his sister Quistis. He wields a pair of handheld crossbows, ensuring that the opposition must traverse a deadly rain of bolts if they wish to take the ball from the Engineer's possession.
---
CHARACTER PLAYS Edit
Flurry (2) || 8" Range || Pulse 2" || OPT
Target enemy model suffers a [2] DMG. All other models within this pulse suffer [2] DMG.
Edit
Arrow to the Knee (2) || 8" Range || Sustaining || OPT
Target enemy model suffers [-2/-2] KICK and [2] DMG.
Edit
Tether Ball (2) || 6" Range || OPT
Target free-ball is immediately placed in possession of this model.
Edit
CHARACTER TRAITS Edit
Swift Strikes
This model may make a [1"] Dodge after causing damage to one or more enemy models. Edit
HEROIC PLAY Edit
Locked & Loaded
The next time this model uses a Character Play this turn it may do so without spending Influence.
Edit
ARTICLES Edit
Community content is available under
CC-BY-SA
unless otherwise noted.