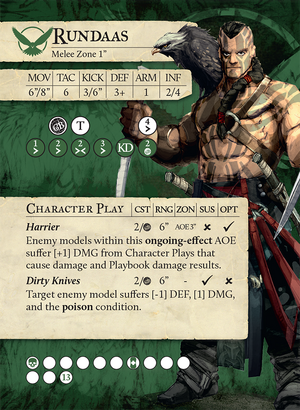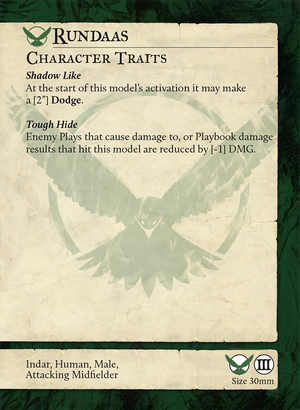 Rundaas...
---
CHARACTER PLAYS Edit
Harrier (2 / 1GB) || 6" Range || AOE 3" || OPT
Enemy models within this ongoing-effect AOE suffer [+1] DMG from Character Plays that cause damage and Playbook damage results.
Edit
Dirty Knives (2 / 1GB) || 6" Range || SUSTAINING
Target enemy model suffers [-1] DEF, [1] DMG, and the poison condition. Edit
CHARACTER TRAITS Edit
Shadow Like
At the start of this model's activation it may make a [2"] Dodge. Edit
Tough Hide
Enemy Plays that cause damage to, or Playbook damage results that hit this model are reduced by [-1] DMG.
Edit
ARTICLES Edit
Ikaros and Rundaas – Taking It to The Nest Level
Community content is available under
CC-BY-SA
unless otherwise noted.