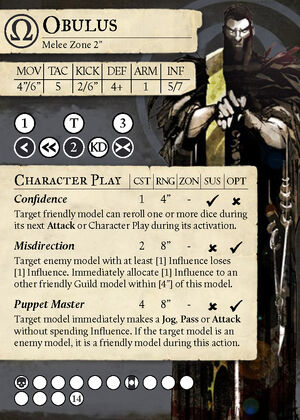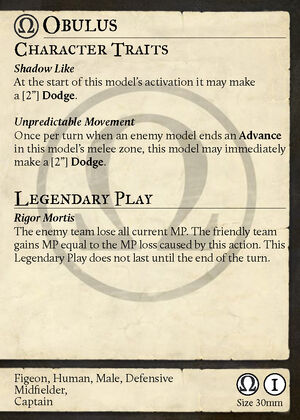 Obulus casts an intimidating shadow, death's chill afflicting all who pass. He is blessed with a sharp mind, using his cunning to gain more power through manipulation and intrigue. His ascension to Guild Ball captain is only the beginning, and will not let death claim him until his power over the Mortician's Guild is absolute.
---
CHARACTER PLAYS Edit
Confidence (1) || 4" Range || Sustaining
Target friendly model can reroll one or more dice during its next Attack or Character Play during its activation.
Edit
Misdirection (2) || 8" Range || OPT
Target enemy model with at least [1] Influence loses [1] Influence. Immediately allocate [1] Influence to an other friendly Guild model within [4"] of this model.
Edit
Puppet Master (4) || 8" Range || OPT
Target model immediately makes a Jog, Pass or Attack without spending Influence. If the target model is an enemy model, it is a friendly model during this action. Edit
CHARACTER TRAITS Edit
Shadow Like
At the start of this model's activation it may make a [2"] Dodge. Edit
Unpredictable Movement
Once per turn when an enemy model ends an Advance in this model's melee zone, this model may immediately make a [2"] Dodge. Edit
LEGENDARY PLAY Edit
Rigor Mortis
The enemy team lose all current MP. The friendly team gains MP equal to the MP loss caused by this action. This Legendary Play does not last until the end of the turn.
Edit
ARTICLES Edit
Community content is available under
CC-BY-SA
unless otherwise noted.