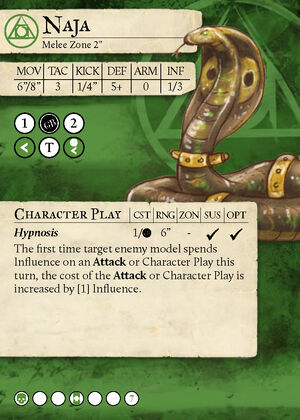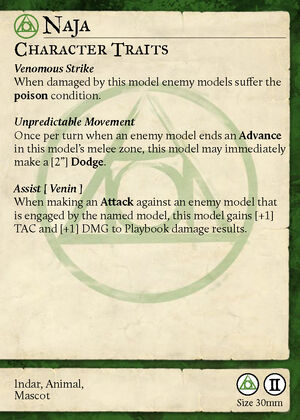 Naja...
---
CHARACTER PLAYS Edit
Hypnosis (1 / 1 GB) || 6" Range || Sustaining || OPT
The first time target enemy model spends Influence on an Attack or Character Play this turn, the cost of the Attack or Character Play is increased by [1] Influence.
Edit
CHARACTER TRAITS Edit
Venomous Strike
When damaged by this model enemy models suffer the poison condition. Edit
Unpredictable Movement
Once per turn when an enemy model ends an Advance in this model's melee zone, this model may immediately make a [2"] Dodge.
Edit
Assist [ Venin ]
When making an Attack against an enemy model that is engaged by the friendly named model, this model gains [+1] TAC and [+1] DMG to Playbook damage results.
Edit