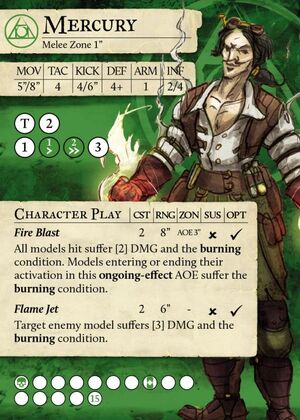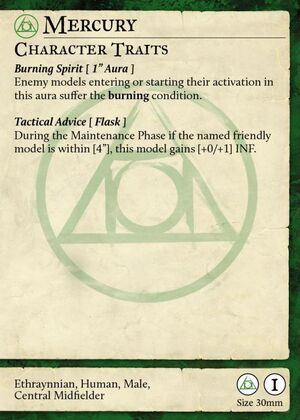 Mercury is a serial womaniser, and seems more interested in flirting and showing-off rather than furthering the interests of his Guild. Despite all this, he is still an asset to the team, where his talent for throwing fireballs is put to good use.
---
CHARACTER PLAYS Edit
Fire Blast (2) || 8" Range || AOE 3" || OPT
All models hit suffer [2] DMG and the burning condition. Models entering or ending their activation in this ongoing-effect AOE suffer the burning condition. Edit
Flame Jet (2) || 6" Range || OPT
Target enemy model suffers [3] DMG and the burning condition. Edit
CHARACTER TRAITS Edit
Burning Spirit [1" Aura]
Enemy models entering or starting their activation in this aura suffer the burning  condition. Edit
Tactical Advice [Flask]
During the Maintenance Phase if the named friendly model is within [4"], this model gains [+0/+1] INF.
Edit
Community content is available under
CC-BY-SA
unless otherwise noted.