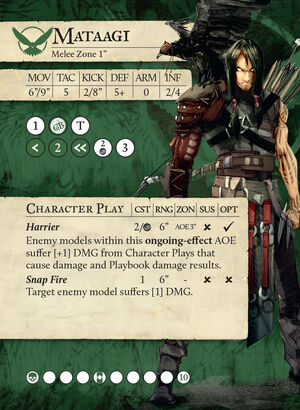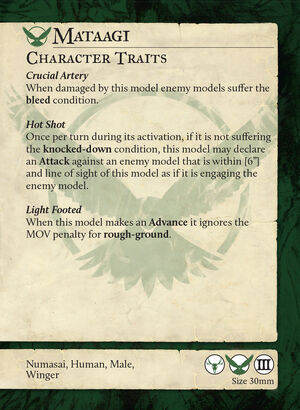 Mataagi...
---
CHARACTER PLAYS Edit
Harrier (2 / 1GB) || 6" Range || AOE 3" || OPT
Enemy models within this ongoing-effect AOE suffer [+1] DMG from Character Plays that cause damage and Playbook damage results.
Edit
Snap Fire (1) || 6" Range
Target enemy model suffers [1] DMG.
Edit
CHARACTER TRAITS Edit
Crucial Artery
When damaged by this model enemy models suffer the bleed condition. Edit
Hot Shot
Once per turn during its activation, if it is not suffering the knocked-down condition, this model may declare an Attack against an enemy model that is within [6"] and line of sight of this model as if it is engaging the enemy model. Edit
Light Footed
When this model makes an Advance it ignores the MOV penalty for rough-ground. Edit
ARTICLES Edit
Community content is available under
CC-BY-SA
unless otherwise noted.