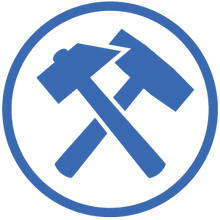 "The Mason's Guild? Rock solid, safe as houses if you'll forgive me the pun. No? Sheesh, tough crowd tonight …"
- Spigot, Midfielder, Brewer's Guild
Masons' play style is all about balance and subtle flexibility. They have strong but not outstanding offensive and defensive options available to them. With a good mix of buffs and debuffs forming the foundation of their combo play, they need each other to excel.
They are equipped to play well during all phases of the game without a definitive focus on any key area, which is why they are the most flexible of teams to play. They have the tools and the play style to adapt to every situation, as long as you can piece them together properly.
Mason rewards players who can see and build play to effect combos, and then take advantage of any situation.
FULL ROSTER : SEASON 3 Edit
CAPTAINS
MASCOTS
BENCH
UNION ELIGIBLE
GUILD IDENTITY CARDS Edit
GOAL POSTS Edit
BALL TOKENS Edit
ARTICLES Edit
Guild Ball Week: Faction Guide – Mason's Guild
Mason's Guild: Demo Board #2 - GenCon 50
Community content is available under
CC-BY-SA
unless otherwise noted.