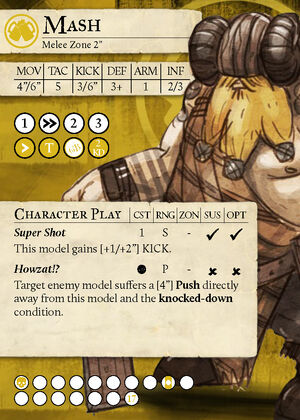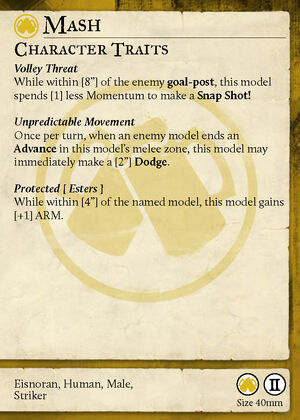 Mash...
---
CHARACTER PLAYS Edit
Super Shot (1) || S Range || Sustaining || OPT
This model gains [+1/+2"] KICK.
Edit
Howzat!? (1 GB) || P Range
Target enemy model suffers a [4"] Push directly away from this model and the knocked-down condition. Edit
CHARACTER TRAITS Edit
Volley Threat
While within [8"] of the enemy goal-post, this model spends  [1] less Momentum to make a Snap Shot! Edit
Unpredictable Movement
Once per turn, when an enemy model ends an Advance in this model's melee zone, this model may immediately make a [2"] Dodge.
Edit
Protected [Esters]
While within [4"] of the friendly named model, this model gains [+1] ARM.
Edit
Community content is available under
CC-BY-SA
unless otherwise noted.