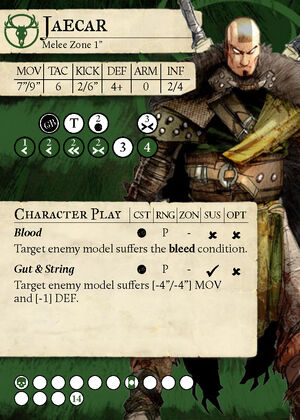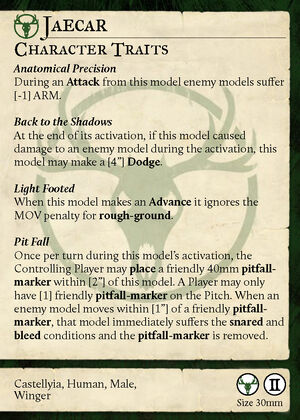 Jaecar...
---
CHARACTER PLAYS Edit
Blood (1 GB) || P Range
Target enemy model suffers the bleed condition. Edit
Gut & String (1 GB) || P Range || Sustaining
Target enemy model suffers [-4"/-4"] MOV and [-1] DEF.
Edit
CHARACTER TRAITS Edit
Anatomical Precision
During an Attack from this model enemy models suffer [-1] ARM.
Edit
Back to the Shadows
At the end of its activation, if this model caused damage to an enemy model during the activation, this model may make a [4"] Dodge. Edit
Light Footed
When this model makes an Advance it ignores the MOV penalty for rough-ground. Edit
Pit Fall
Once per turn during this model's activation, the Controlling Player may place a friendly 40mm pitfall-marker within [2"] of this model. A Player may only have [1] friendly pitfall-marker on the Pitch. When an enemy model moves within [1"] of a friendly pitfall-marker, that model immediately suffers the snared and bleed conditions and the pitfall-marker is removed. Edit
Community content is available under
CC-BY-SA
unless otherwise noted.