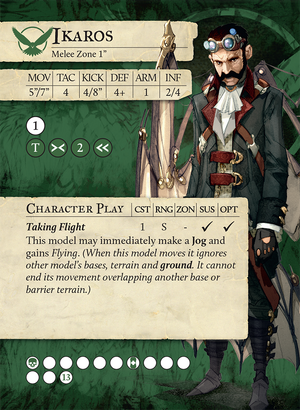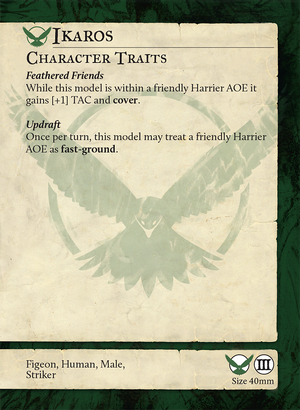 Ikaros...
---
CHARACTER PLAYS Edit
Taking Flight (1) || Self Range || SUSTAINING || OPT
This model may immediately make a Jog and gains Flying. (When this model moves it ignores other model's bases, terrain and ground. It cannot end its movement overlapping another base or barrier terrain.) Edit
CHARACTER TRAITS Edit
Feathered Friends
While this model is within a friendly Harrier AOE it gains [+1] TAC and cover. Edit
Updraft
Once per turn during, this model may treat a friendly Harrier AOE as fast-ground. Edit
ARTICLES Edit
Ikaros and Rundaas – Taking It to The Nest Level
Community content is available under
CC-BY-SA
unless otherwise noted.