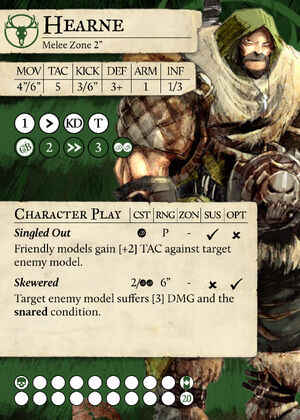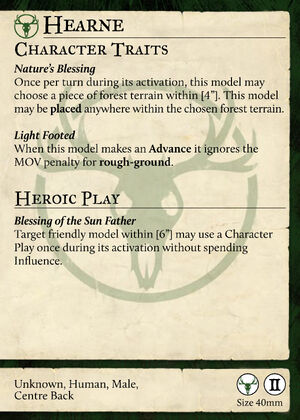 Hearne...
---
CHARACTER PLAYS Edit
Singled Out (1 GB) || P Range || Sustaining
Friendly models gain [+2] TAC against target enemy model.
Edit
Skewered (2 / 2 GB) || 6" Range || OPT
Target enemy model suffers [3] DMG and the snared condition. Edit
CHARACTER TRAITS Edit
Nature's Blessing
Once per turn during its activation, this model may choose a piece of forest terrain within [4"]. This model may be placed anywhere within the chosen forest terrain. Edit
Light Footed
When this model makes an Advance it ignores the MOV penalty for rough-ground. Edit
HEROIC PLAY Edit
Blessing of the Sun Father
Target friendly model within [6"] may use a Character Play once during its activation without spending Influence.
Edit
Community content is available under
CC-BY-SA
unless otherwise noted.