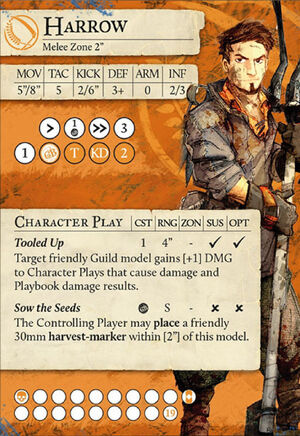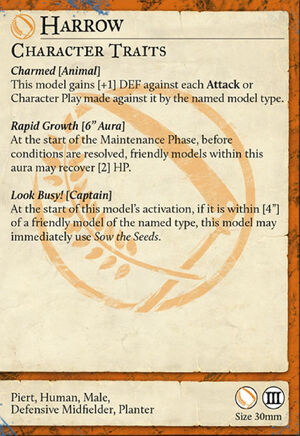 Harrow...
---
CHARACTER PLAYS Edit
Tooled Up (1) || 4" Range || Sustaining || OPT
Target friendly Guild model gains [+1] DMG to Character Plays that cause damage and Playbook damage results.
Edit
Sow the Seeds (1 GB) || Self Range
The Controlling Player may place a friendly 30mm harvest-marker within [2"] of this model. Edit
CHARACTER TRAITS Edit
Charmed [Animal]
This model gains [+1] DEF against each Attack or Character Play made against it by the named model type. Edit
Rapid Growth [6" Aura]
At the start of the Maintenance Phase, before conditions are resolved, friendly models within this aura may recover [2] HP.
Edit
Look Busy! [Captain]
At the start of this model's activation, if it is within [4"] of a friendly model of the named type, this model may immediately use Sow the Seeds.
Edit