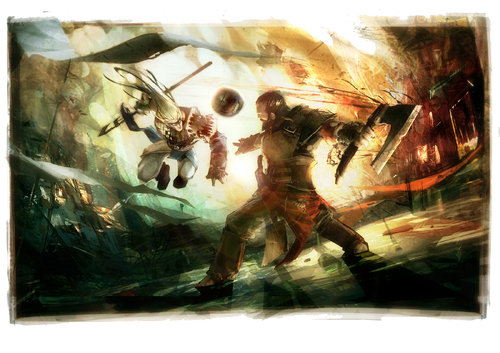 Welcome to the Guild Ball Wikia Edit
ATTENTION : As you might have guessed, this wikia is no longer being updated by myself. If anyone wants to keep it alive. Please feel free.Thanks. Edit
This wiki is a resource for the Guild Ball miniatures game published by Steamforged Games LTD (http://steamforged.com/), devoted to discussion of players, builds and strategies. Guild Ball is a medieval football game set in a pseudo-historical world. Developed by Mat Hart & Richard Loxam
Please note that this resource is a condensed version of the information provided from their website. I highly encourage you to visit the Steamforged website (http://steamforged.com/) for additional information and to purchase their products. We are fans of the game and support everything they have provided for us. If at any time they feel like this resource site is infringing on their rights / products I will gracefully remove it from Wikia. I hope you enjoy the information collected and the time we've put into making this a quick reference for all things Guild Ball. This is everyone's community so please feel free to post questions,comments, and update the wiki pages for updates and errors.
Thank you, and game on!
CONTENTS Edit
Resources Edit
Organised Play Edit
Game Concepts Edit
IN DEVELOPMENT Edit
MAJOR LEAGUE GUILDS Edit
MINOR LEAGUE GUILDS Edit
Supplies & Accessories Edit
Online Links & Resources Edit
OFFICIAL Edit
ARCHIVED Edit
IndieGoGo PVC Fisherman's Guild 🐟 https://igg.me/at/guildball-fisherman
IndieGoGo PVC Butcher's Guild 🍖 https://igg.me/at/guildball-butchers
Kickstarter Campaign - Guild Ball Kickstarter
GENERAL MEDIAEdit
Which minor league team are you hoping for a release in Season 4?
Latest activity
Edit
Community content is available under
CC-BY-SA
unless otherwise noted.