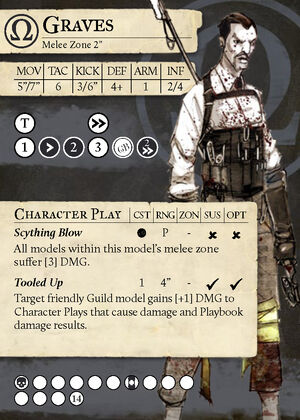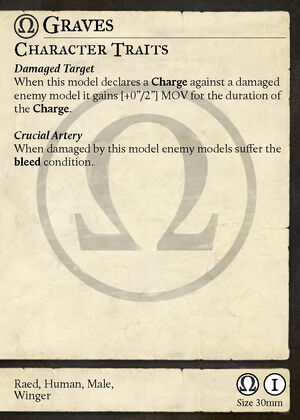 Graves takes great pleasure in making people suffer. He learned many talents during his time in the Physician's Guild, and his evil disposition gave him many a reason to practice those of a darker nature. He is not really in Guild Ball for the sport; he just likes to spear you in the gut and watch you squirm.
---
CHARACTER PLAYS Edit
Scything Blow (1 GB) || P Range
All models within this model's melee zone suffer [3] DMG.
Edit
Tooled Up (1) || 4" Range || Sustaining || OPT
Target friendly Guild model gains [+1] DMG to Character Plays that cause damage and Playbook damage results.
Edit
CHARACTER TRAITS Edit
Damaged Target
When this model declares a Charge against a damaged enemy model it gains [+0"/+2"] MOV for the duration of the Charge. Edit
Crucial Artery
When damaged by this model enemy models suffer the bleed condition. Edit
ARTICLES Edit