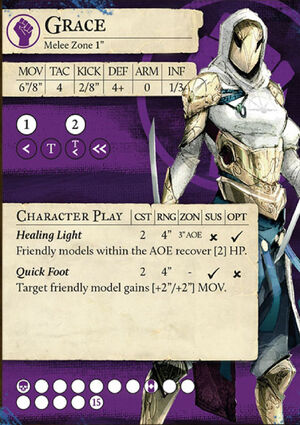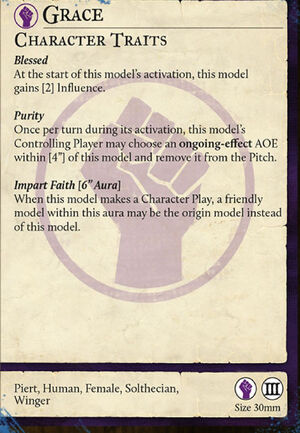 It's a new dawn for The Union thanks to the divine talents of Grace and Benediction. A bottomless well of healing, the Living Saint, Grace, gives self-sustained support to her teammates near and far. Meanwhile, Benediction stands as a devoted guardian, poised to beat back opposing players. Together, the players make their teams as resilient and unwavering as their faith. Whether you find their presence to be a blessing or a curse will depend on your side of the pitch.
Released: Friday May 26th 2017
---
CHARACTER PLAYS Edit
Healing Light (2) || 4" Range || 3" AOE || OPT
Friendly models within the AOE recover [2] HP.
Edit
Quick Foot (2) || 4" Range || Sustaining
Target friendly model gains [+2"/+2"] MOV.
Edit
CHARACTER TRAITS Edit
Blessed
At the start of this model's activation, this model gains [2] Influence.
Edit
Purity
Once per turn during its activation, this model's Controlling Player may choose an ongoing-effect AOE within [2"] of this model and remove it from the Pitch.
Edit
Impart Faith (6" Aura)
When this model makes a Character Play, a friendly model within this aura may be the origin model instead of this model.
Edit
ARTICLES Edit
Praise Be! The First Light of Solthecius
Community content is available under
CC-BY-SA
unless otherwise noted.