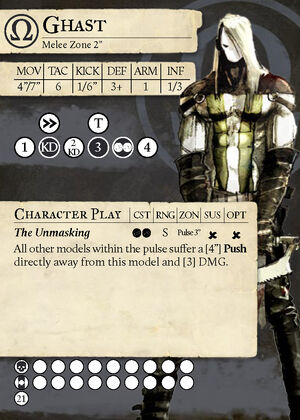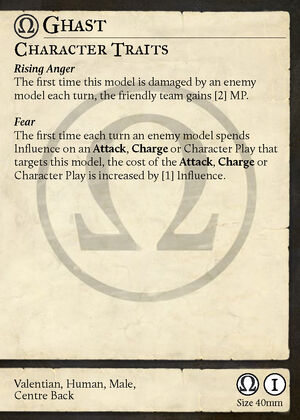 Ghast is a silent, brooding and melancholy man, totally at odds with this towering appearance. His gruesome face is kept hidden by a white mask, never removed for fear of what might be unleashed.
---
CHARACTER PLAYS Edit
The Unmasking (2 GB) || S Range || Pulse 3"
All other models within the pulse suffer a [4"] Push directly away from this model and [3] DMG. Edit
CHARACTER TRAITS Edit
Rising Anger
The first time this model is damaged by an enemy model each turn, the friendly team gains [2] MP.
Edit
Fear
The first time each turn an enemy model spends Influence on an Attack, Charge or Character Play that targets this model, the cost of the Attack, Charge or Character Play is increased by [1] Influence. Edit
ARTICLES Edit
Community content is available under
CC-BY-SA
unless otherwise noted.