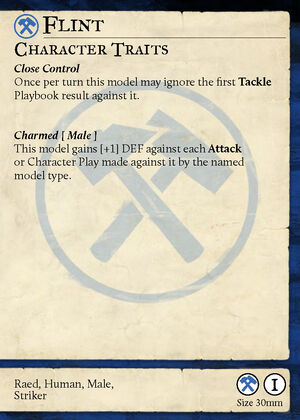 Flint is a handsome man, and a charmer by nature, but do not let his appearance fool you. He is a hardened rogue, who gained his skills playing his inmates whilst incarcerated. The sport is now his fickle mistress, and he lives for the thrill of the high-stake games in front of the cheering crowds.
---
CHARACTER PLAYS Edit
Where'd They Go? (1/1 GB) || Self Range || OPT
This model may make a [4"] Dodge.
Edit
CHARACTER TRAITS Edit
Close Control
Once per turn this model may ignore the first Tackle Playbook result against it.
Edit
Charmed [Male]
This model gains [+1] DEF against each Attack or Character Play made against it by the named model type.
Edit
Community content is available under
CC-BY-SA
unless otherwise noted.