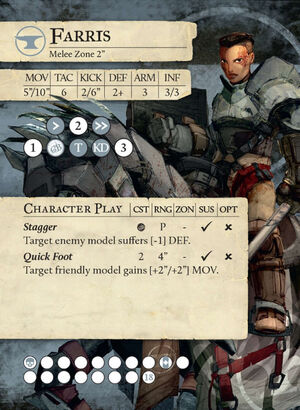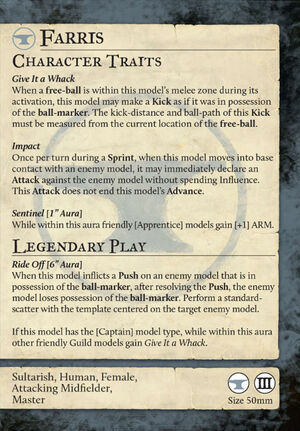 Farris
Pre-Release : Steamcon UK 2017
---
CHARACTER PLAYS Edit
Stagger (1GB) || P Range || Sustaining
Target enemy model suffers [-1] DEF.
Edit
Quick Foot (2) || 4" Range || Sustaining
Target friendly model gains [+2"/+2"] MOV.
Edit
CHARACTER TRAITS Edit
Give It a Whack
When a free-ball is within this model's melee zone during its activation, this model may make a Kick as if it was in possession of the ball-marker, The kick-distance and ball-path of this Kick must be measured from the current location of the free-ball. Edit
Impacts
Once per turn during a Sprint, when this model moves into base contact with an enemy model, it may immediately declare an Attack against the enemy model without spending Influence. This Attack does not end this model's Advance. Edit
Sentinel [1" Aura]
While within this aura friendly [Apprentice] models gain [+1] ARM.
Edit
LEGENDARY PLAY Edit
Ride Off [6" Aura]
When this model inflicts a Push on an enemy model that is in possession of the ball-marker, after resolving the Push, the enemy model loses possession of the ball-marker. Perform a standard-scatter with the template centered on the target enemy model. Edit
If this model has the [Captain] model type, while within this aura other friendly Guild models gain Give It a Whack. Edit
ARTICLES Edit
Blacksmith Guild: Farris & Bolt
Farris' horse is named Judgement.
Community content is available under
CC-BY-SA
unless otherwise noted.