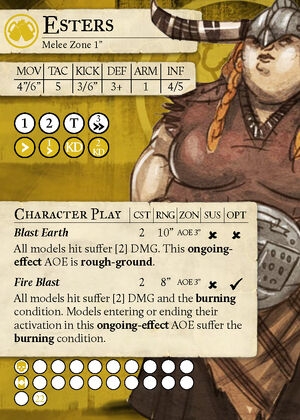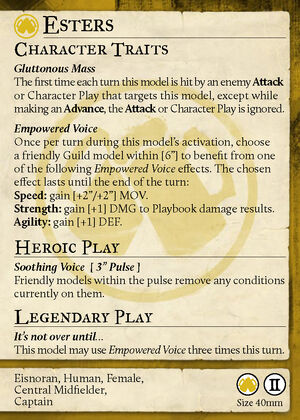 Esters...
---
CHARACTER PLAYS Edit
Blast Earth (2) || 10" Range || AOE 3"
All models hit suffer [2] DMG. This ongoing-effect AOE is rough-ground. Edit
Fire Blast (2) || 8" Range || AOE 3" || OPT
All models hit suffer [2] DMG and the burning condition. Models entering or ending their activation in this ongoing-effect AOE suffer the burning condition. Edit
CHARACTER TRAITS Edit
Gluttonous Mass
The first time each turn this model is hit by an enemy Attack or Character Play that targets this model, except while making an Advance, the Attack or Character Play is ignored. Edit
Empowered Voice
Once per turn during this model's activation, choose a friendly guild model within [6"] to benefit from one of the following Empowered Voice effects. The chosen effect lasts until the end of the turn: Edit
SPEED: gain [+2"/+2"] MOV.
STRENGTH: gain [+1] DMG to Playbook damage results.
AGILITY: gain [+1] DEF.
HEROIC PLAY Edit
Soothing Voice [3" Pulse]
Friendly models within the pulse remove any conditions currently on them.
Edit
LEGENDARY PLAY Edit
It's not over until ...
This model may use Empowered Voice three times this turn. Edit
Community content is available under
CC-BY-SA
unless otherwise noted.