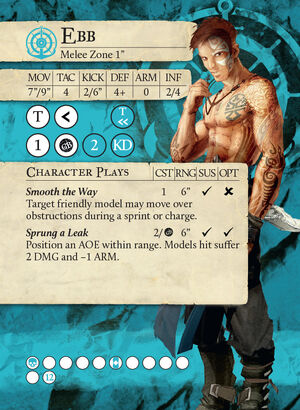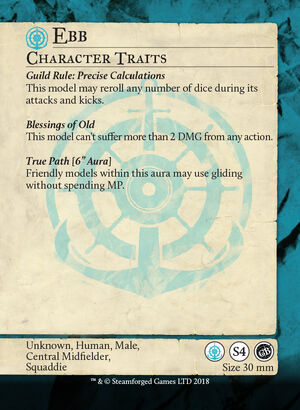 Released : The Navigator's Guild: Tales of the New World ( 21 Sept 2018)
---
CHARACTER PLAYS Edit
Smooth the Way (1) || 6" Range || SUSTAINING
Target friendly model may move over obstructions during a sprint or charge.
Edit
Sprung a Leak (2 / 1GB) || 6" Range || SUSTAINING || OPT
Position an AOE within range. Models hit suffer 2 DMG and -1 ARM.
Edit
CHARACTER TRAITS Edit
Guild Rule: Precise Calculations
This model may reroll any number of dice during its attacks and kicks.
Edit
Blessings of Old
This model can't suffer more than 2 DMG from any action.
Edit
True Path [6" Aura]
Friendly models within this aura may use gliding without spending MP.
Edit
ARTICLES Edit
Community content is available under
CC-BY-SA
unless otherwise noted.