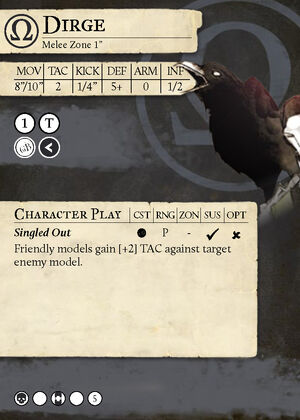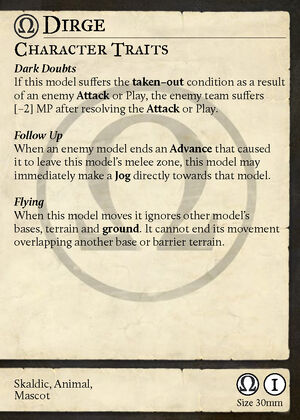 Dirge is the crow that the Morticians have chosen to be their mascot. Pecking at opponents' faces at the worst possible moment has earned him the accolade of most annoying creature in the game.
---
CHARACTER PLAYS Edit
Singled Out (1 GB) || P Range || Sustaining
Friendly Models gain [+2] TAC against target enemy model.
Edit
CHARACTER TRAITS Edit
Dark Doubts
If this model suffers the taken-out condition as a result of the an enemy Attack or Play, the enemy team suffers [-2] MP after resolving the Attack or Play. Edit
Follow Up
When an enemy model ends an Advance that caused it to leave this model's melee zone, this model may immediately make a Jog directly towards that model. Edit
Flying
When this model moves it ignores other model's bases, terrain and ground. It cannot end its movement overlapping another base or barrier terrain. Edit
ARTICLES Edit