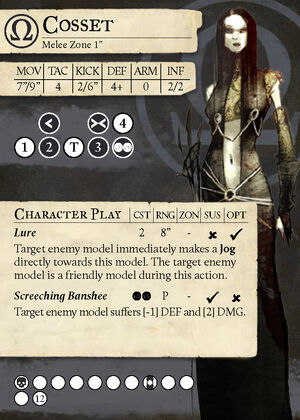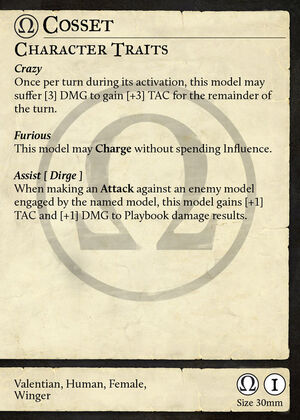 Cosset may look cute and innocent, but appearances can be deceptive. She is absolutely crazy, just as likely to smile at you as she is to claw your eyes out. Even her fellow Mortician's players give her a wide berth knowing how quickly her mood can turn.
---
CHARACTER PLAYS Edit
Lure (2) || 8" Range || OPT
Target friendly model immediately makes a Jog directly towards this model. The target enemy model is a friendly model during this action. Edit
Screeching Banshee (2 GB) || P Range || Sustaining
Target enemy model suffers [-1] DEF and [2] DMG.
Edit
CHARACTER TRAITS Edit
Crazy
Once per turn during its activation, this model may suffer [3] DMG to gain [+3] TAC for the remainder of the turn.
Edit
Furious
This model may Charge without spending Influence. Edit
Assist [Dirge]
When making an Attack against an enemy model engaged by the friendly named model, this model gains [+1] TAC and [+1] DMG to Playbook damage results. Edit
ARTICLES Edit