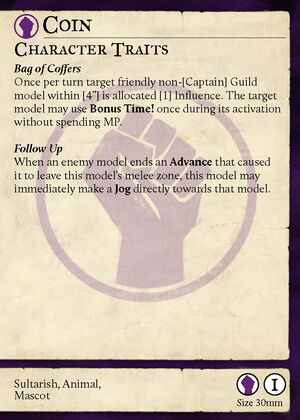 Coin is a huge snake that Blackheart feeds his fortune to. There is no love for his unorthodox bank, which he daily subjects to the suffering of being forced to swallow indigestible gold. The alien eyes of the snake show no comprehension of Blackheart as anything other than the source of its torment, as he has been for so many years now.
---
CHARACTER PLAYS Edit
Hamstring (1 GB) || P Range || Sustaining
Target enemy model suffers [-4"/-4"] MOV.
Edit
CHARACTER TRAITS Edit
Bag of Coffers
Once per turn target friendly non-[Captain] Guild model within [4"] gains [1] Influence. The target model may use Bonus Time! once during its activation. Edit
Follow Up
When an enemy model ends an Advance that caused it to leave this model's melee zone, this model may immediately make a Jog directly towards that model.
Edit