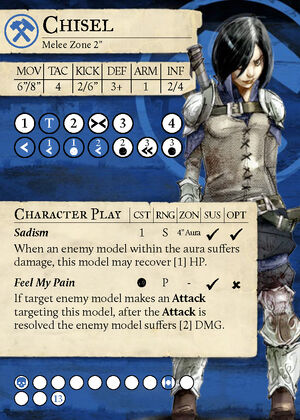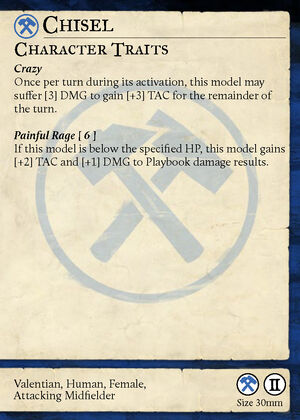 Chisel...
---
CHARACTER PLAYS Edit
Sadism (1) || Self Range || Aura 4" || Sustaining || OPT
When an enemy model within the aura suffers damage, this model may recover [1] HP.
Edit
Feel My Pain (1 GB) || P Range || Sustaining
If target enemy model makes an Attack targeting this model, after the Attack is resolved the enemy model suffers [2] DMG. Edit
CHARACTER TRAITS Edit
Crazy
Once per turn during this its activation, this model may suffer [3] DMG to gain [+3] TAC for the remainder of the turn.
Edit
Painful Rage [6]
If this model is below the specified HP, this model gains [+2] TAC and [+1] DMG to Playbook damage results.
Edit