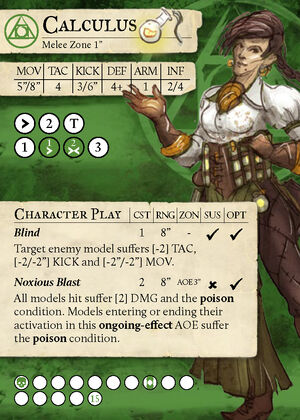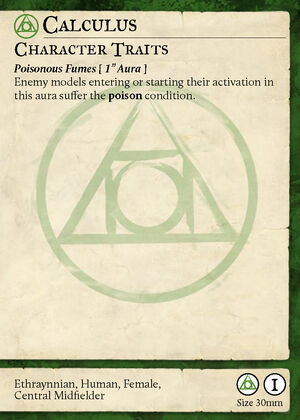 A dedicated Alchemist, Calculus was set to be appointed as team captain before the arrival of Midas. She is not distracted by such petty politics, and continues to demonstrate the power and benefit the advancement of alchemy can bring.
---
CHARACTER PLAYS Edit
Blind (1) || 8" Range || Sustaining || OPT
Target enemy model suffers [-2] TAC, [-2 /-2"] KICK and [-2"/-2"] MOV.
Edit
Noxious Blast (2) || 8" Range || AOE 3" || OPT
All models hit suffer [2] DMG and the poison condition. Models entering or ending their activation in this ongoing-effect AOE suffer the poison condition. Edit
CHARACTER TRAITS Edit
Poisonous Fumes [1" Aura]
Enemy models entering or starting their activation in this aura suffer the poison condition. Edit