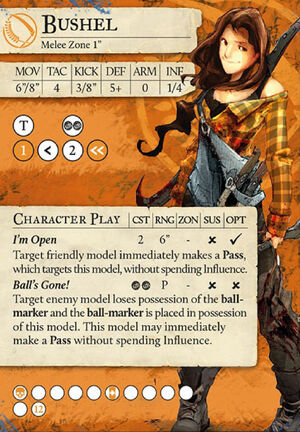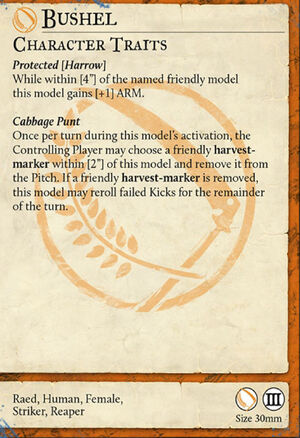 Bushel
---
CHARACTER PLAYS Edit
I'm Open (2) || 6" Range || OPT
Target friendly model in possession of the ball-marker immediately makes a Pass, which targets this model, without spending Influence.
Edit
Ball's Gone! (2 GB) || P Range
Target enemy model loses possession of the ball-marker and the ball-marker is placed in possession of this model. This model may immediately make a Pass without spending influence.
Edit
CHARACTER TRAITS Edit
Protected [Harrow]
While within [4"] of the named friendly model this model gains [+1] ARM.
Edit
Cabbage Punt
Once per turn during this model's activation, the Controlling Player may choose a friendly harvest-marker within [2"] of this model and remove it from the Pitch. If a friendly harvest-marker is removed, this model may reroll failed Kicks for the remainder of the turn.
Edit