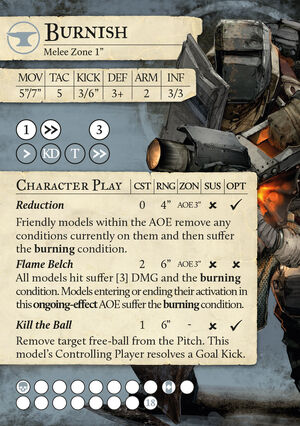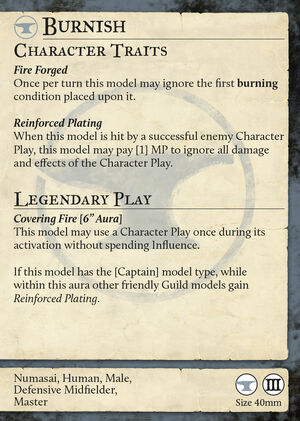 Burnish
Released : TBD
---
CHARACTER PLAYS Edit
Reduction (0) || 4" Range || AOE 3" || OPT
Friendly models within the AOE remove any conditions currently on them and then suffer the burning condition. Edit
Flame Belch (2) || 6" Range || 3" AOE
All models hit suffer [3] DMG and the burning condition. Models entering or ending their activation in this ongoing-effect AOE suffer the burning condition. Edit
Kill the Ball (1) || 6" Range || OPT
All Remove target free-ball from the Pitch. This model's Controlling Player resolves a Goal Kick.
Edit
CHARACTER TRAITS Edit
Fire Forged
Once per turn this model may ignore the first burning condition placed upon it. Edit
Reinforced Plating
When this model is hit by a successful enemy Character Play, this model may pay [1] MP to ignore all damage and effects of the Character Play.
Edit
LEGENDARY PLAY Edit
Covering Fire [6" Aura]
This model may use a Character Play, once during its activation without spending Influence.
Edit
If this model has the [Captain] model type, while within this aura other friendly Guild models gain Reinforced Plating. Edit
ARTICLES Edit
Blacksmith's Guild: Burn baby Burn, Disco Inferno!!